In 2015, I risked everything.
I sold my personal collection of over 200 sneakers, jeopardized my parent's retirement funds, and left my career to launch my own sneaker brand.
Like many kids in Los Angeles, I grew up idolizing the sneaker culture. The early 2000's, in my opinion, was one of the greatest eras of sneakers. The depth of the culture - from the art, the slang, the storytelling, to the quality of products, made that era so iconic. After college, countless retail jobs, internships with footwear designers, and the tenacity of wanting to have my own brand, I launched COLLEGIUM. A brand that embodied everything I idolized in sneakers that could be shared with everyone through a timeless design and experience.
Nick Sisombath
Founder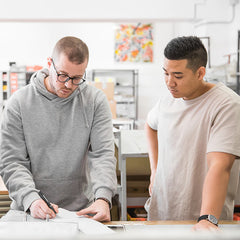 Hands On Approach
We've traveled all over Italy to find the best factories and suppliers of materials to provide our customers with the highest of quality products. There are no consultants and no middlemen in the design process. We personally go through every aspect of our footwear development and apply our materialization expertise to ensure nothing gets lost in translation.
Best In Craft
We believe that hand crafted is the best kind of craft. Each stage of our shoe manufacturing passes through the hands of an artisan who meticulously does their part to provide the highest quality of craftsmanship. These artisans also work with materials that are best in class – we source only the highest quality of materials from the finest suppliers, handpicking every single material that you see on each shoe.
Designed to Last
We're not here to provide you something that's only good for now. We are here for today, tomorrow and years to come. Our timeless silhouettes, topped with uncompromising comfort and constructed with only the finest materials, provides you with a product that you can wear repeatedly while always being in style. This is our guarantee to you.